My Blog
Posts for tag: x-rays
By Norwich Family Dental Associates
December 10, 2018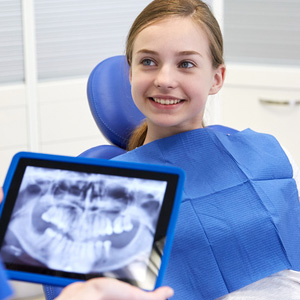 When it comes to our children's safety, there isn't much nowadays that isn't under scrutiny. Whether food, clothing, toys and more, we ask the same question: can it be harmful to children?
That also includes tried and true healthcare practices. One in particular, the routine x-ray, has been an integral part of dental care for nearly a century. As a means for detecting tooth decay much earlier than by sight, it has without a doubt helped save billions of teeth.
But is it safe for children? The reason to ask is because x-rays are an invisible form of electromagnetic radiation that can penetrate human tissue. As with other forms of radiation, elevated or frequent exposure to x-rays could damage tissue and increase the future risk of cancer.
But while there is potential for harm, dentists take great care to never expose patients, especially children, to that level or frequency of radiation. They incorporate a number of safeguards based on a principle followed by all healthcare professionals in regard to x-rays called ALARA, an acronym for "as low as reasonably achievable." This means dentists and physicians use as low an exposure of x-ray energy as is needed to achieve a reasonable beneficial outcome. In dentistry, that's identifying and treating tooth decay.
X-ray equipment advances are a good example of ALARA in action. Digital imaging, which has largely replaced film, requires less x-ray radiation for the same results than its older counterpart. Camera equipment has also become more efficient, with modern units containing lower settings for children to ensure the proper amount of exposure.
Dentists are also careful how often they take x-ray images with their patients, only doing so when absolutely necessary. As a result, dental patients by and large experience lower dosages of x-ray radiation in a year than they receive from natural radiation background sources found every day in the environment.
Dentists are committed to using x-ray technology in as safe and beneficial a way as possible. Still, if you have concerns please feel free to discuss it further with your dental provider. Both of you have the same goal—that your children have both healthy mouths and healthy bodies for the rest of their lives.
If you would like more information on x-ray safety for children, please contact us or schedule an appointment for a consultation. You can also learn more about this topic by reading the Dear Doctor magazine article "X-Ray Safety for Children."
By Norwich Family Dental Associates
September 30, 2015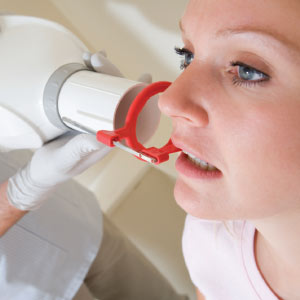 Radiographic (x-ray) images are an indispensible diagnostic tool in dentistry. One of the most routine and useful types of x-rays dentists take is the so-called bitewing. Here are some things you may want to know about this common diagnostic procedure.
What are bitewing x-rays?
Bitewings reveal the presence and extent of decay in the back teeth, specifically in areas where adjacent teeth touch each other. Unlike other areas of the teeth, these contacting surfaces between adjacent teeth can't be examined visually. Bitewings can also show areas of bone loss around teeth — a sign of periodontal disease; however, they are not taken for that purpose because bitewings will not show the complete root surface that is surrounded by bone.
Why are they called that?
The name "bitewing" refers to how the film — or sensor, in the case of a digital x-ray — is positioned in the mouth: The patient bites down on a little tab or wing that holds the apparatus in place.
How often do I need them?
This is determined on a case-by-case basis, with the goal of not exposing you to any more radiation than necessary — even the minimal amount found in a series of bitewing x-rays. Your individual susceptibility to caries (tooth decay) and personal dental history will play a major role in determining how frequently you need radiographic examination — and, for that matter, how often you need to come in for routine cleanings and exams.
Are they safe?
The safety of bitewing x-rays is best illustrated with a comparison to the regular daily radiation exposure we get every day from environmental sources, which is about 0.01 millisieverts — the unit of measure we use for radiation. A series of 4 bitewing x-rays exposes you to 0.004 millisieverts of radiation — less than half of the daily exposure. Undetected tooth decay, which can spread quickly through the softer inner layers of teeth, is considered much more dangerous!
If a bitewing x-ray shows that there is tooth decay, what happens next?
If the cavity is very small, we may be able to treat it during the same appointment. If not, we will make a separate appointment to make sure it is taken care of promptly. The sooner tooth decay is treated, the better!
What if I have more questions?
Contact our office, or schedule an appointment for a consultation.