My Blog
Posts for tag: retainer
By Norwich Family Dental Associates
September 01, 2018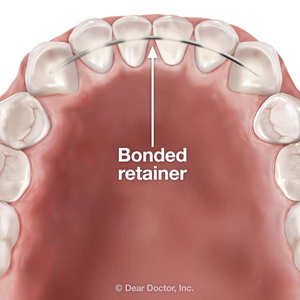 If you want to keep that new smile after orthodontic treatment, you'll need to wear a retainer for awhile. Teeth have a tendency to "rebound" to their old positions and a retainer prevents that from happening.
Most people are familiar with the standard removable retainer. But there's another option: a bonded retainer. While performing the same function as a removable one, the bonded retainer differs in one important aspect—it's fixed in place and can't be removed except by a dentist. It's especially useful for certain bite repairs like the closure of the gap between the front teeth.
If you're thinking this retainer sounds a lot like the braces just removed, it's not. The main part of a bonded retainer is a thin metal wire that we bond with a dental composite material across the back of the affected teeth. While you can definitely feel it with your tongue it can't be seen by others, which is an advantage over many removable retainers.
The fixed nature of bonded retainers also creates a couple of advantages, especially for younger patients. There's no compliance issue as with removable retainers—the patient doesn't have the option of taking it out. That also means it can't be lost, a frequent and costly occurrence with the removable variety.
But a bonded retainer does have some drawbacks. For one, the wire and composite material make it more difficult to floss. There's also a possibility of breakage from high biting forces, which if that should occur must be immediately repaired to avoid the teeth rebounding. But while removable retainers have their downsides, it's much easier with them to keep the teeth clean of plaque—you simply take the appliance out to brush and floss.
With your dentist's help you can weigh the pros and cons of both types of retainers and decide which is best for you or your child. Whichever one you choose, wearing a retainer will help protect that hard-earned smile for years to come.
If you would like more information on protecting your bite after orthodontic treatment, please contact us or schedule an appointment for a consultation. You can also learn more about this topic by reading the Dear Doctor magazine article "Bonded Retainers: What are the Pros and Cons?"
By Norwich Family Dental Associates
September 07, 2017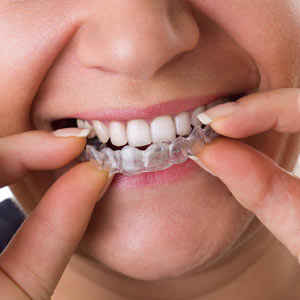 You've invested a lot of time and money in orthodontic treatment to improve your smile. If you're not careful, though, your teeth could actually move back to their old positions. The reason why is related to the same natural tooth-moving mechanism we use to straighten teeth in the first place.
Teeth are held in place by an elastic, fibrous tissue called the periodontal ligament lying between the teeth and the jawbone and attaching to both with tiny collagen fibers. The periodontal ligament allows for incremental tooth movement in response to pressure generated around the teeth, as when we chew (or while wearing braces).
Unfortunately, this process can work in reverse. Out of a kind of "muscle memory," the teeth can revert to the older positions once there's no more pressure from the removed braces. You could eventually be right back where you started.
To avoid this, we have to employ measures to hold or "retain" the teeth in their new positions for some time after the braces come off. That's why we have you wear a dental appliance called a retainer, which maintains tooth position to prevent a relapse. Depending on what's best for your situation, this could be a removable retainer or one that's fixed to the teeth.
Patients typically wear a retainer around the clock in the immediate period after braces, and then eventually taper off to just nighttime wear. Younger patients must wear one for several months until the new teeth positions become more secure and the chances of a rebound diminish. For older patients who've matured past the jaw development stage, though, wearing a retainer may be a permanent necessity to protect their smile.
Retainer wear can be an annoyance, but it's an absolute necessity. Think of it as insurance on your investment in a new, more attractive smile.
If you would like more information on improving your smile through orthodontics, please contact us or schedule an appointment for a consultation. You can also learn more about this topic by reading the Dear Doctor magazine article "The Importance of Orthodontic Retainers."