My Blog
Posts for tag: nutrition
By Norwich Family Dental Associates
March 12, 2021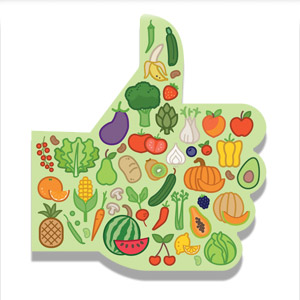 There are great health benefits to eating better, including for your teeth and gums. But to determine your ideal diet, you'll have to come to terms with carbohydrates, the sugars, fiber and starches found in plants or dairy products that convert to glucose after digestion.
Carbohydrates (also known as carbs) are important because the glucose created from them supplies energy and regulates metabolism in the body's cells. But they can also create elevated spikes of glucose in the bloodstream that can cause chronic inflammation. Besides conditions like diabetes or heart disease, chronic inflammation also increases your risk of periodontal (gum) disease, a bacterial infection arising from dental plaque.
Many concerned about this effect choose either to severely restrict carbs in their diet or cut them out altogether. But these hardline approaches deprive you of the benefits of carbs in maintaining good health. There's a better way—and it starts with understanding that not all carbs are the same. And, one difference in particular can help you properly manage them in your diet.
Here's the key: Different carbs convert to glucose at different digestive rates of speed measured on a scale known as the glycemic index. Carbs that digest faster (and are more apt to cause glucose spikes in the bloodstream) are known as high glycemic. Those which are slower are known as low glycemic.
Your basic strategy then to avoid blood glucose spikes is to eat more low glycemic foods and less high glycemic. Foods low on the glycemic index contain complex, unrefined carbohydrates like most vegetables, greens, legumes, nuts or whole grains. High glycemic foods tend to be processed or refined with added sugar like pastries, white rice, or mashed potatoes.
Low glycemic foods also tend to have higher amounts of minerals and nutrients necessary for healthy mouths and bodies. And fresh vegetables in particular often contain high amounts of fiber, which slows down the digestion of the accompanying carbohydrates.
Eating mainly low glycemic foods can provide you the right kinds of carbs needed to keep your body healthy while avoiding glucose spikes that lead to inflammation. You're also much less likely to experience gum disease and maintain a healthy mouth.
If you would like more information on nutrition and dental health, please contact us or schedule an appointment for a consultation. You can also learn more about this topic by reading the Dear Doctor magazine article "Carbohydrates Linked to Gum Disease."
By Norwich Family Dental Associates
March 15, 2018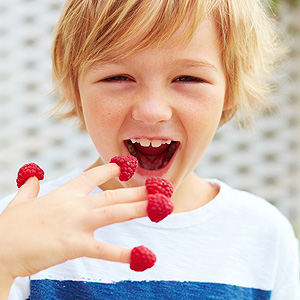 Want to give your kids the best start possible for a lifetime of good dental health? The most important thing you can do is train them in effective brushing and flossing. It's more than having a nice smile and fresh breath: these hygiene tasks remove the daily buildup of bacterial plaque, the primary cause for both tooth decay and periodontal (gum) disease, which are most responsible for poor oral health.
But those aren't the only habits they should be cultivating. Here are 3 tips for helping your child develop great dental health habits.
Encourage healthy eating. Teeth and gums are like other parts of the body: they need the "building blocks" found in nutritious foods to help grow strong, healthy tissues. By focusing on a diet leaner on processed items and richer in whole, less-processed vegetables, meats and dairy products, you'll be helping your child build strong defenses against dental disease.
Keep sugary snacks under control. Of all the items in your child's diet, sugar could have the greatest impact on their teeth. Disease-causing bacteria thrive on this particular carbohydrate, multiplying and producing mouth acid—the main enemy of tooth enamel—as a byproduct. So, limit sugary snacks as much as possible, opting instead for more nutritional between-meal treats. In fact, try to make sure they only consume sugary treats at mealtime, not in between.
Encourage an end to thumb-sucking or pacifiers by age 3. Most infants and very young children suck their thumbs or, alternatively, a pacifier. There's no harm in this habit unless it extends into later childhood where it could affect their bite. You can avoid this outcome by encouraging your child with mainly positive reinforcement to stop sucking their thumbs or other objects before their third birthday. Your dentist can also help with tips and support in those efforts.
If you would like more information on dental care for your child, please contact us or schedule an appointment for a consultation. You can also learn more about this topic by reading the Dear Doctor magazine article "Help your Child Develop the Best Habits for Oral Health."
By Norwich Family Dental Associates
October 26, 2016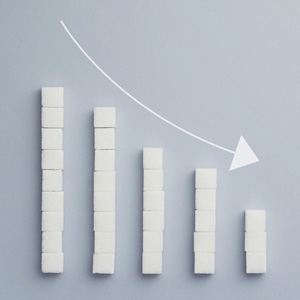 Tooth decay doesn't appear out of nowhere. It begins with bacteria, which produce acid that softens and erodes tooth enamel. Without adequate enamel protection, cavities can develop.
So, one of our prevention goals is to decrease populations of disease-causing bacteria. One way is to deprive them of carbohydrates, a prime food source, most notably refined sugar. That's why for decades dentists have instructed patients to limit their intake of sugar, especially between meal snacks.
Ironically, we're now consuming more rather than less sugar from a generation ago. The higher consumption impacts more than dental health — it's believed to be a contributing factor in many health problems, especially in children. Thirty years ago it was nearly impossible to find a child in the U.S. with type 2 diabetes: today, there are over 50,000 documented juvenile cases.
Cutting back isn't easy. For one thing, we're hard-wired for sweet-tasting foods. Our ancestors trusted such foods when there was limited food safety knowledge. Most of us today still have our "sweet tooth."
There's also another factor: the processed food industry. When food researchers concluded fats were a health hazard the government changed dietary guidelines. Food processors faced a problem because they used fats as a flavor enhancer. To restore flavor they began adding small amounts of sugar to foods like lunch meat, bread, tomato sauce and peanut butter. Today, three-quarters of the 600,000 available processed food items contain some form of added sugar.
Although difficult given your available supermarket choices, limiting your sugar intake to the recommended 6 teaspoons a day will reduce your risk for dental and some general diseases. There are things you can do: replace processed foods with more fresh fruits and vegetables; read food labels for sugar content to make better purchasing decisions; drink water for hydration rather than soda (which can contain two-thirds of your daily recommended sugar allowance), sports drinks or juices; and exercise regularly.
Keeping your sugar consumption under control will help you reduce the risk of tooth decay. You'll be helping your overall health too.
If you would like more information on the effect of sugar on health, please contact us or schedule an appointment for a consultation. You can also learn more about this topic by reading the Dear Doctor magazine article "The Bitter Truth about Sugar."