My Blog
Posts for: June, 2021
By Norwich Family Dental Associates
June 20, 2021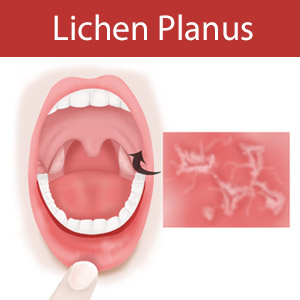 Most of what goes on inside our mouths—good or bad—is fairly predictable. But every now and then, people encounter something out of the ordinary. A good example is lichen planus.
Lichen planus are rare skin lesions that can occur on various parts of the skin, including inside the mouth. The name comes from their lacy appearance, which resembles a fungus that grows on rocks or trees called lichen.
Being similar in appearance, though, is all that lichen planus has in common with its fungal namesake. It's believed that the sores are caused by a reaction of the immune system mistaking some of the body's cells as foreign.
But don't let the exotic sounding name alarm you—true lichen planus is considered a benign mouth sore. You may not even realize you have it until your dentist notices and points it out. But the lesions can sometimes cause mild pain or burning, especially if they occur near the gums or if you indulge in spicy or acidic foods.
As we said, these lesions aren't considered dangerous. But in a small number of cases, oral cancer was found to develop later. It's unclear whether the lesions were related to the cancer, or if what were diagnosed as lichen planus lesions were actually pre-cancerous cells mimicking the appearance of the benign sore.
In any event, your dentist will probably continue to monitor the lesions and possibly conduct regular oral cancer screenings to be on the safe side. You may also want to stop using tobacco or alcohol products to further decrease your risk of oral cancer.
As to managing lichen planus, it starts with a daily habit of brushing and flossing. You'll also want to avoid spicy or acidic foods like citrus fruits, tomatoes, peppers or caffeinated drinks, especially during flareups. If the lesions are causing discomfort, your dentist may also prescribe a topical steroid to apply to them.
Since it's quite possible you won't know if you have lichen planus (as well as other types of mouth sores) unless your dentist observes them, you should keep up regular dental visits. Having your dentist check your entire mouth, not just your teeth and gums, will help both of you stay on top of your oral health.
If you would like more information on mouth sores, please contact us or schedule an appointment for a consultation. You can also learn more about this topic by reading the Dear Doctor magazine article "Lichen Planus."
By Norwich Family Dental Associates
June 10, 2021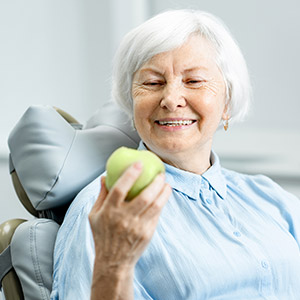 Around one in ten U.S. adults have diabetes, a metabolic disease that can disrupt other aspects of a person's health like wound healing and vision. It could also cause complications with dental implants, the premier replacement choice for missing teeth.
There are two basic types of diabetes. In type 1 diabetes, the pancreas stops producing insulin, a hormone needed to regulate the amount of sugar glucose in the bloodstream. With the more prevalent type 2 diabetes, the body either doesn't produce enough insulin or doesn't respond efficiently to the insulin produced.
Uncontrolled diabetes can contribute to several dangerous health conditions. In addition to vision impairment and poor wound healing, diabetics are at higher risk for other problems like kidney disease or nerve damage. Drastic swings in blood glucose levels can also cause coma or death.
Many diabetics, though, are able to manage their condition through diet, exercise, medications and regular medical care. Even so, they may still encounter problems with wound healing, which could complicate getting a dental implant.
An implant is composed of a titanium metal post imbedded into the jawbone. Because of its affinity with titanium, bone cells naturally grow and adhere to the implant's metal surface. Several weeks after implant surgery, enough bone growth occurs to fully secure the implant within the jaw.
But this integration process may be slower for diabetics because of sluggish wound healing. It's possible for integration to not fully occur in diabetic patients after implant surgery, increasing the risk of eventually losing the implant.
Fortunately, though, evidence indicates this not to be as great a concern as once thought. A number of recent group studies comparing diabetic and non-diabetic implant patients found little difference in outcomes—both groups had similar success rates (more than 95 percent).
The only exception, though, were diabetic patients with poor glucose control, who had much slower bone integration that posed a threat to a successful implant outcome. If you're in this situation, it's better if you're first able to better control your blood glucose levels before you undergo surgery.
So, while diabetes is something to factor into your implant decision, your chances remain good for a successful outcome. Just be sure you're doing everything you can to effectively manage your diabetes.
If you would like more information on diabetes and dental health, please contact us or schedule an appointment for a consultation. You can also learn more about this topic by reading the Dear Doctor magazine article "Dental Implants & Diabetes."