My Blog
Posts for: February, 2021
By Norwich Family Dental Associates
February 20, 2021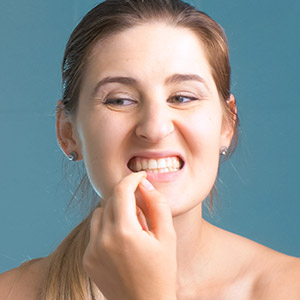 February is Gum Disease Awareness Month, and we heartily agree that gums deserve their own month of special recognition. After all, they play an essential role keeping teeth securely in place, and their network of tiny blood vessels supplies important nutrients and disease-fighting agents that teeth depend on. Yet gum disease affects nearly 50% of people over age 30 and 70% of those aged 65 and older, making it the most common chronic inflammatory disease among adults.
Gum disease starts with the thin buildup of bacteria and food particles called plaque. When plaque spreads below the gum line, the gums can become inflamed, resulting in a mild stage of gum disease called gingivitis, which often goes undetected. If not treated, it can progress to a more serious form called periodontitis, which can break down the gums and underlying bone, causing teeth to become loose or even fall out. In fact, periodontitis is the number one cause of tooth loss in adults—and its effects can range beyond the mouth. Periodontitis is linked to many other health conditions, including diabetes, heart disease, respiratory ailments and Alzheimer's disease, among others.
The good news is that gum disease is usually preventable through good oral hygiene and, when caught in its early stages, reversible. To take the best care of your gums, follow these tips:
Look out for signs of gum disease. Some signs include red, puffy or tender gums, gums that bleed when you brush and floss, gums that recede or separate from the teeth, teeth that are loose or shifting, and persistent bad breath or a persistent bad taste in your mouth.
Make good dental hygiene a daily habit. To keep dental plaque at bay, brush your teeth morning and night with fluoride toothpaste, and floss once a day.
Keep up with regular dental visits. It is especially important to come in at least twice a year for checkups and professional cleanings if you have gum disease or another systemic health condition like diabetes.
Quit tobacco. Smoking, vaping and chewing tobacco are major risk factors for gum disease and certain cancers. When it comes to quitting, you may think "easier said than done." While we realize it's hard to quit, we also know it's doable and the rewards are priceless.
Eat a healthy diet. Scientific studies have found that a diet low in refined carbohydrates and rich in whole grains, Omega-3 fatty acids, vitamins C and D, antioxidants and fiber can help control gum disease by reducing inflammation in the body.
Being aware of early gum disease symptoms and taking steps to maintain good oral health can lead to better gum health as well as better overall health.
If you would like more information about gum disease prevention and treatment, please contact us or schedule a consultation. To learn more, read the Dear Doctor magazine article "How Gum Disease Gets Started."
By Norwich Family Dental Associates
February 10, 2021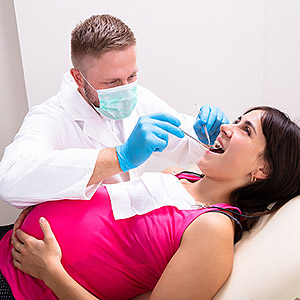 Learning you're pregnant can change your life in a heartbeat—or now two. Suddenly, what was important to you just seconds before the news takes a back seat to the reality of a new life growing within you.
But although many of your priorities will change, there's one in particular that shouldn't—taking care of your dental health. In fact, because of the hormonal changes that will begin to occur in your body, your risk of dental disease may increase during pregnancy.
Because of these hormonal variations, you may find you have increased cravings for certain foods. If that includes eating more carbohydrates (especially sugar), bacteria can begin to multiply in your mouth and make you more susceptible to tooth decay and periodontal (gum) disease.
The hormones in themselves can also increase your risk of gum disease in particular. There's even a name for a very common form of gum infection—pregnancy gingivitis—which affects around two-fifths of pregnant women. If not treated, it could aggressively spread deeper within the gums and endanger both your teeth and supporting jaw bone.
The key to minimizing both tooth decay and gum disease is to keep your mouth clean of dental plaque, a thin bacterial biofilm most responsible for these diseases. You can do this by keeping up daily brushing and flossing and maintaining regular dental cleanings and checkups. Professional dental care is especially important during pregnancy.
You may, though, have some reservations about some aspects of dental care, especially if they involve undergoing local anesthesia. But many medical organizations including the American Congress of Obstetricians and Gynecologists and the American Dental Association recommend dental treatment during pregnancy. Even procedures involving local anesthesia won't increase the risk of harm to you or your baby.
That said, though, elective dental work such as cosmetic enhancements, might be better postponed until after the baby is born. It's best to discuss with your dentist which treatments are essential and should be performed without delay, and which are not. In general, though, there's nothing to fear for you or your baby continuing your regular dental care—in fact, it's more important than ever.
If you would like more information on dental care during pregnancy, please contact us or schedule an appointment for a consultation. You can also learn more about this topic by reading the Dear Doctor magazine article "Dental Care During Pregnancy."